I'm finally done with the Christmas photos. You can find my favorite selections here and here.
It was an iPad Christmas.
Yes, the kids got outside for sledding, snowball fights, and making snow caves. But when it gets down to -20 with the wind chill, responsible parents can't keep throwing the kids outdoors, no matter how much those responsible parents might want an escape from the chaos. Aunt Becky organized lots of indoor activities to help release the kids' energy without frostbite: Bowling, laser tag, the amusement park at the Mall of America, and running through downtown Rochester by way of its protected skybridges. But there's a limit to how much you can or should provide kids' entertainment for them. It's good to let them fend for themselves. This Christmas, when those times came, the kids invariably commandeered the nearest screen.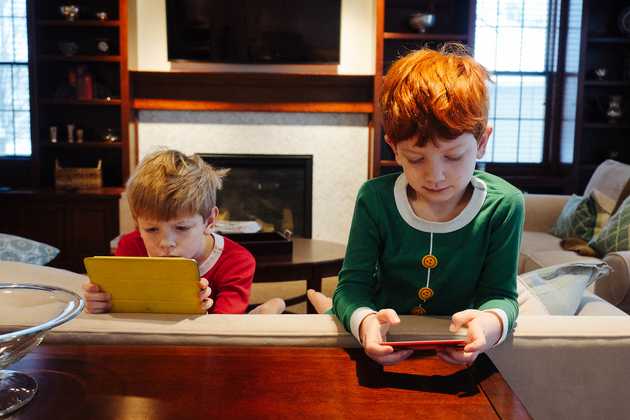 You know how the younger generation makes fun of the older generation for not understanding technology? I thought my job programming computers protected me from that fate, in spite of the increasing gray at my temples. Well, that's not the case. The kids' game of choice, Minecraft, completely baffles me. They played for hours over the break, but I'm helpless at describing exactly what they did in the game. It's like asking a chicken to describe quantum mechanics; with absolutely no comprehension, it's hopeless. So I can't begin to explain Minecraft, but it kept the kids happy and occupied. That's enough.
I'm sure the kids would have been thrilled with a holiday break that was nothing but screen-time. But as adults, we know better, and we know that no holiday is complete without a feast. We had two, bookending the Brown Clan time together in Minnesota. Aunt Becky cooked a turkey dinner to welcome us all to Minnesota; Nana cooked a standing rib roast on our last night together. As an adult, I can tell you both meals were fabulous. I don't know what the kids would tell you. As every family around the table had the same conversation about "I want you to just try this food" with their offspring, I suspect the universal opinion from the next generation would be, "Why do you have to ruin a perfectly good holiday with green beans?"
The whispers started as the dishes were drying after our last meal together: "We need to take a family picture!" Thus began the most challenging of holiday rituals: Getting the family portrait. While I understand f-stops and off-camera flash, I have no real tricks for getting 15 people to all smile at the same time and keep their eyes open. It's just luck. That, and bribing the kids: "Come on, if you take one more serious picture, we can do a silly picture after that!" It worked: