I don't need to tell people who live here how nice this weekend was. Even certain recent visitors to Seattle would agree that it was a beautiful, sunny, and warm weekend.
Molly & I won't forget this weekend for a long, long, time. As a delayed birthday present, Molly had arranged for our regular babysitter to watch the kids overnight on Saturday. We decided to spend our night away at the lovely Inn at Langley. We'd been to Langley once, ten years ago, for their annual Murder Mystery weekend, and I've always wanted to return. It's not far from Seattle — maybe an hour and a half, depending on the ferry traffic — but it feels like another planet. It's a sleepy little town that overflows with art galleries and amazing views over the Saratoga passage to the Cascade mountains.
We were a little late getting out of the house on Saturday. It turns out it takes longer to get a babysitter ready to spend the night than it does to get a babysitter ready to watch the kids for an evening. Plus, it had been an unusually busy Saturday morning, so we didn't have a lot of time to pack or prepare beforehand. I glanced at the route on Google maps, and it seemed straightforward: Head to the Mukilteo ferry, then follow the signs for Langley. But I didn't have time to look at the ferry schedule, so when we finally got everything settled with the babysitter we just started driving north and hoped for the best.
It turns out we had amazing ferry karma. We got to the ferry dock at 3:11 and we got to sneak on the 3:15 ferry. What luck! All during the ferry crossing, we were playing a memory game… when was the last time we rode that ferry? We remembered having the kids with us, because we remembered parking in the ferry lot and walking on the nearby beach. (We saw scuba divers getting out of the water!) But where had we been going? Molly thought we'd been heading to visit my college friend Cynthia, but that didn't make sense. Cynthia lives by the Hood Canal, and you can't get there from the Mukilteo ferry. We would have taken the Bainbridge ferry when we visited Cynthia.
We still hadn't solved the mystery when we got to the other side and started driving. After driving about 10 minutes, I started getting really confused. There were no street signs pointing the way to Langley. The street signs I did see made no sense… Port Gamble? I remembered biking through there and I didn't think it was on Whidbey island. Signs for Bremerton? Why? We came to one fork in the road — we could go West or South, and I had no idea which one would get us to Langley. That's when we pulled over and consulted the map on my phone. This is what went through my head, with horror, when I saw the data from the phone's GPS.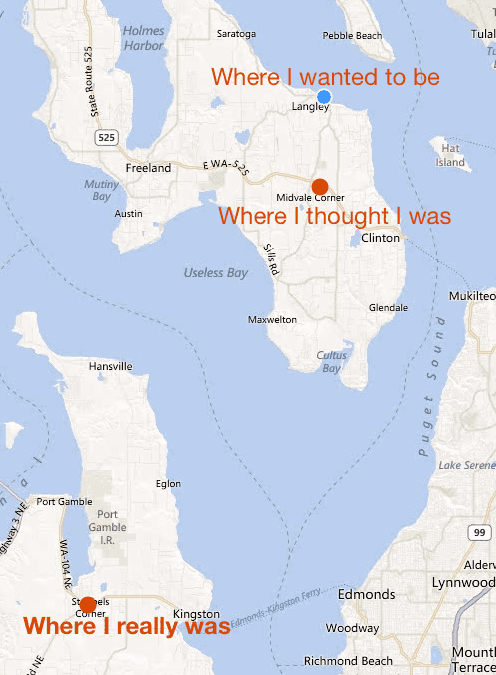 Not only were we far from Langley — we weren't even on the same landmass! Instead of being on Whidbey Island, we were on the Kitsap peninsula. I muttered, "I could have sworn I was supposed to take the Mukilteo ferry! What happened?" It took another minute or two to realize: Yes, I was supposed to take the Mukilteo ferry, **but the Mukilteo ferry isn't the first ferry north of Seattle. It's the second! **Without knowing it, we'd hopped on the Edmonds/Kingston ferry by mistake. (And, incidentally, the last time we'd taken the Edmonds/Kingston ferry was to visit my friend Cynthia over by the Hood Canal, so the mystery was solved once we knew where we were.)
At this point, we had two not-good options. We could turn around, take a ferry back to the mainland, drive to the Mukilteo ferry, and take it to Whidbey. That wasn't a lot of drive time, but has two unpredictable ferries. Or, we could drive around to Port Townsend and take the Port Townsend/Coupeville ferry over to Whidbey. A much longer drive, but only one ferry. We decided one ferry was better than two (and for what it's worth, Google Maps agreed that driving to Port Townsend would be marginally faster.)
We got lucky again in Port Townsend. The ferry had just docked and was starting to unload when we got there. Things still could have been bad: The Port Townsend ferry is one of only two in Washington State that take reservations, and we didn't have one. What saved us is it still isn't peak season, so we were able to fit on the small boat.
Once we got over to Whidbey, finding Langley was easy. However, the mistake cost us about two hours, so by the time we got to town the shops were closed. Still, the Inn was nice, we had a nice meal, and we were treated to beautiful weather the next morning. Plus, we woke up gently to morning sunlight on the water rather than by hyper kids jumping in the bedroom next door. So in spite of the mishaps, it was still a nice… no, epic weekend.