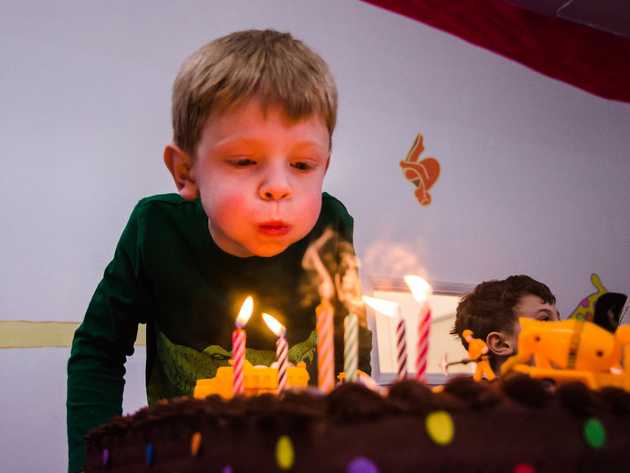 When you turn six, the celebrations can last a long time. While Alex's birthday was today, he's been building up to this moment since I told him last Tuesday, "You know, this is your last Tuesday of being five years old." Ever the one to spot patterns, he made sure to tell everybody, every day, "It's my last Wednesday / Thursday / Friday / etc. of being five years old!"
As fun as the countdown was, it's hard to beat a good party, and Alex had a great party this year. Rather than having a romp of kindergartners in our own house, we relied upon the good folks of the Seattle Gymnastics Academy to host the party for us. The kids spend the first hour on the gym floor under the guidance of two young, but astoundingly effective, coaches. The kids got to jump in a foam pit, navigate obstacle courses, bounce on trampolines, swing on ropes, and just in general burn a lot of energy.
After their time on the gym floor, the kids went back to a large private room for food and cake. After all that running around, things were calm and quiet. But that lasted just long enough for the kids to refuel with juice and fruit, after which the insanity really started: I'm sure you can connect the dots between seventeen hyper kids, a few small inflatable balls, and an enclosed space. I'm happy to report that there were no injuries and very little frustrated crying, even from the few three-year-olds in attendance. All in all a great party.
Celebrations didn't end Saturday! On Sunday, Alex and Patrick went to their friend Annika's birthday party. And as you know, when you're young, going to someone else's birthday party is just as fun as being at your own. Jumping! Cake! Party favors! Then, on Sunday night, we had an impromptu mini-party with our friends Asher and T.J., who came over to bring Alex a present help us eat leftover birthday cake.
Then, finally, today Alex went to school on the day of his actual birthday, which meant he was the center of attention for the day. The tradition in Alex's class is that the parents come in to read the class a story on their child's birthday, so Ms. Simon's class was treated to my performance art rendition of Mo Willems's Elephants Cannot Dance. However, my favorite part of visiting kindergarten today was listening to the class recite A.A. Milne's birthday poem from Now We are Six. I've never heard a more perfect summary of life with a kindergartner!
When I was One,
I had just begun.
When I was Two,
I was nearly new.
When I was Three
I was hardly me.
When I was Four,
I was not much more.
When I was Five,
I was just alive.
But now I am Six,
I'm as clever as clever,
So I think I'll be six now for ever and ever.