On Saturday, we took our first trip to the Point Defiance Zoo and Aquarium in Tacoma. If you asked Alex, he'd say it's worth the hour drive because he got to go to a zoo and an aquarium at the same time!
When we first got there, I wasn't sure we were going to see any animals at all. At Point Defiance, they've put a carousel at the entrance, and Alex didn't want to leave it. (Which is strange, because he didn't want to ride on any of the animals, either; after one ride on a wooden horse, he just wanted to watch the carousel go around and around.) Patrick had his first carousel ride: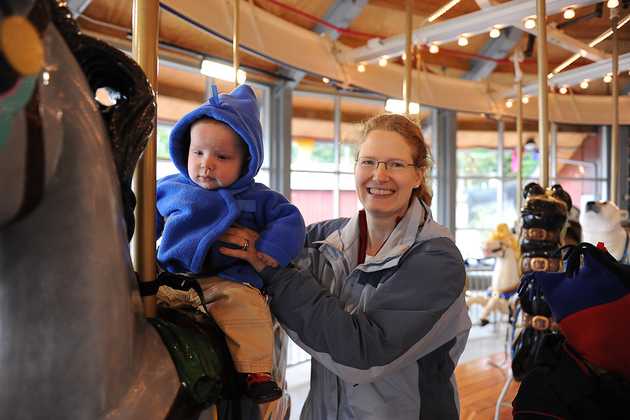 Eventually, we enticed Alex away from the carousel with the prospect of a snack and a chance to see some sharks. The zoo did not disappoint on either count. Their food pavilion was clean and served food that, while still clearly cafeteria food (hamburgers, hot dogs, fries, etc.), was still clearly better in both taste and presentation than the industrial food we can get at the Woodland Park Zoo. My hot dog was a good, tasty, all-beef hot dog. Alex's peanut butter & jelly sandwich was a real sandwich made by real people served wrapped in Saran wrap. At the Woodland Park Zoo, you get these strange, round, sealed Smucker's Crustables "sandwiches" that were clearly made by robots and look more like hockey pucks than sandwiches.
Bonus food points, from the toddler point of view: The kid's meal comes in your choice of plastic lunchbox. Alex picked the monkey one and named it Chico Bon Bon. It hasn't left his side since he got it yesterday. He slept with it and took a bath with it. Here he is, holding it: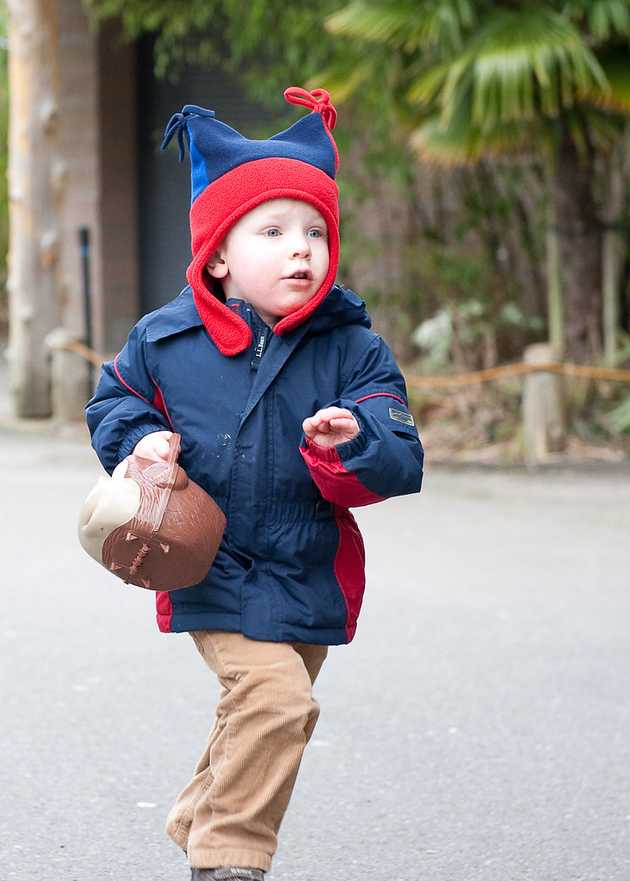 Point Defiance has headline animals that we don't have at our Seattle locations. We saw the sharks, the walruses, and the Beluga whale. (We didn't see the polar bears. I guess we'll have to go back.) Alex got to see the Beluga whale poop underwater. To him, that alone was worth the drive down. If you asked him about the zoo, I'm sure the poop is the one thing he'd tell you about.
Point Defiance feels like one of those smaller establishments that has to try harder! to compete with its more well-known and well-established alternatives. For Seattle families who are now familiar with the Seattle attractions, head south to Tacoma. You'll like what you find.
Click the picture below to see a slideshow of all of my pictures from the day: