Last week, Alex and I went to Rangeley, Maine to spend time with my mother and my grandmother. While the fates seemed to be conspiring against us (record rainfall, cloudy almost every day, astounding delays returning to Seattle), overall we had a grand time. I've got a lot of photos to go through and post and not a lot of uninterrupted time to do it in, so I'll trickle out the pictures and the stories behind them as I have the chance instead of waiting until everything's processed.
Our trip began with a redeye flight to JFK, then a quick connection to Portland. We flew Jet Blue, my first time on that airline. There was a lot to like about the trip over. First, Jet Blue does two things I really like: They don't have a First Class, and the seats don't recline very far. Those add up to a lot of space. They also put TV screens behind each seat with Direct TV programming. So, with Alex clad in his green striped pajamas, we flew across the country in the middle of the night.
For days, I'd been telling Alex that we'd be flying at night and he'd sleep on the plane. He rewarded me by falling asleep an hour into the flight and staying asleep until an hour before landing — that was about a good three hours of snoozing for him. But that was the best part of the first leg of our trip. You see, Alex and I had the aisle/middle seats, I was sitting in the aisle, and — did I mention that the Jet Blue seats don't recline very far? Sitting almost perfectly upright, with a toddler's head plastered to my leg, I wound up sleeping for about 20 minutes of the flight. And silly me, my book was in the overhead compartment, and with that head on my leg I couldn't stand up to get it. And while there was Direct TV playing in the seat in front of me, since this was a redeye, I was looking at late-night cable programming. That's really the bottom of the barrel. With all of the infomercials about male-enhancement drugs and ways to make money quick in real estate, I felt like I was watching a dramatic re-enactment of the contents of my spam folder.
Luckily, for the short flight from JFK to Maine, both Alex and I zonked out.
The disadvantage of taking a redeye is I find the whole next day is pretty much shot as I'm groggy from lack of sleep. This trip was no different. I don't remember much of my first day in Maine.
Day two was fun. We took Alex to a narrow-gauge steam railroad from the 1880s that's open only two days per month. Staffed by volunteers, the $5/adult ride took us from the train station to the nearby engine house (about a 10 minute train ride), included a walking tour of the engine house, and covered lots of history of trains in the region. I don't know what it is about kids and trains, but like all kids, Alex loves them. He had a grand time.
The funny story of that trip: While on the train ride to the engine house, I smelled that Alex had a poopy diaper. So while most of the crowd went off in one direction to get part of the history lesson, I took Alex in the other direction to change his diaper on an unused station platform in semi-privacy. (The engine house is deep in the woods.) Well, I must have dilly-dallied too long, and the semi-privacy turned into no privacy as the group headed back our way. Of course, it didn't bother me or Alex at all, but I bet everyone else remembers the unexpected sight of Alex on his back, me holding his ankles, and his little butt in the air. (At least by this time it was a clean butt.)
Here's Alex in one of the original steam engines, talking to one of the volunteers. You can just tell by the guy's appearance that he loves trains. He's quite knowledgeable and passionate about them.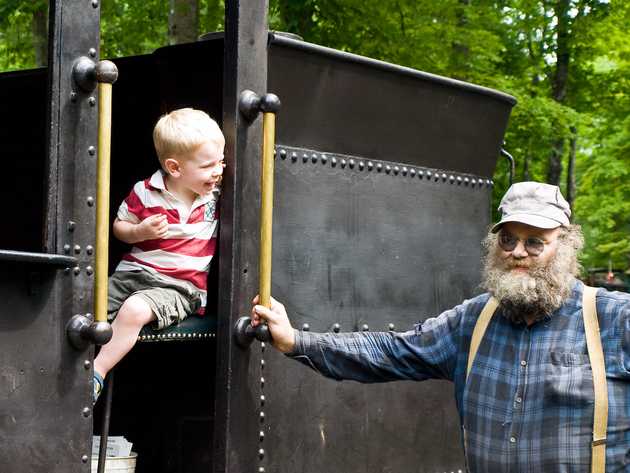 This is the interior of the passenger car we rode in. It's from the 1880s. The car was used as a hunting lodge for a while, and the original seats had been removed during that time. We were sitting in Volkswagen bucket seats. They don't turn the car around on these railroads, so the original seats would pivot so the passengers would always be facing forwards. Our Volkswagen seats didn't turn. This delighted Alex. When the train started moving, he shouted happily, "We're going backwards!" You can also see the wood-burning stove that would have heated the car back in the 1880s. What you can't see are the beautiful brass oil lamps that would have provided your light back then.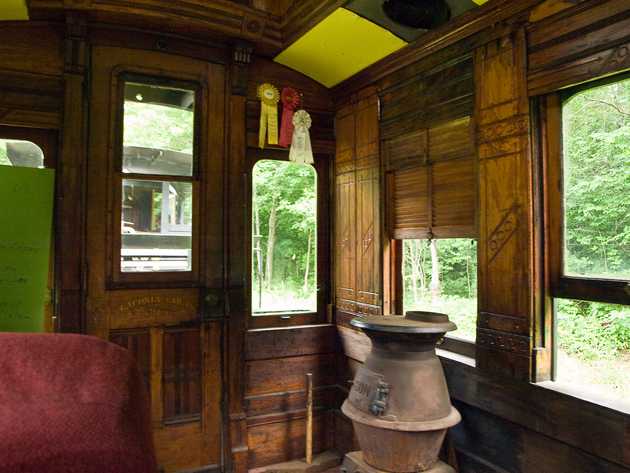 One more shot I really like: Alex waiting for the train with the famous Saddleback Leather briefcase by him. Dunno about you, but I think that briefcase would look right at home in the 1880s.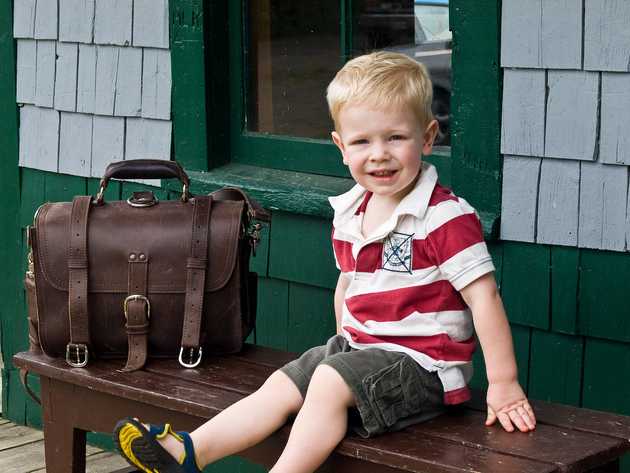 The rest of the train pictures are here:
http://www.flickr.com/photos/bdewey/sets/72157606698756792/