It was my third year in a row visiting the charming town of Prosser for the Balloon Rally (you can read about trip one and trip two). The big difference this year? The whole family came, too!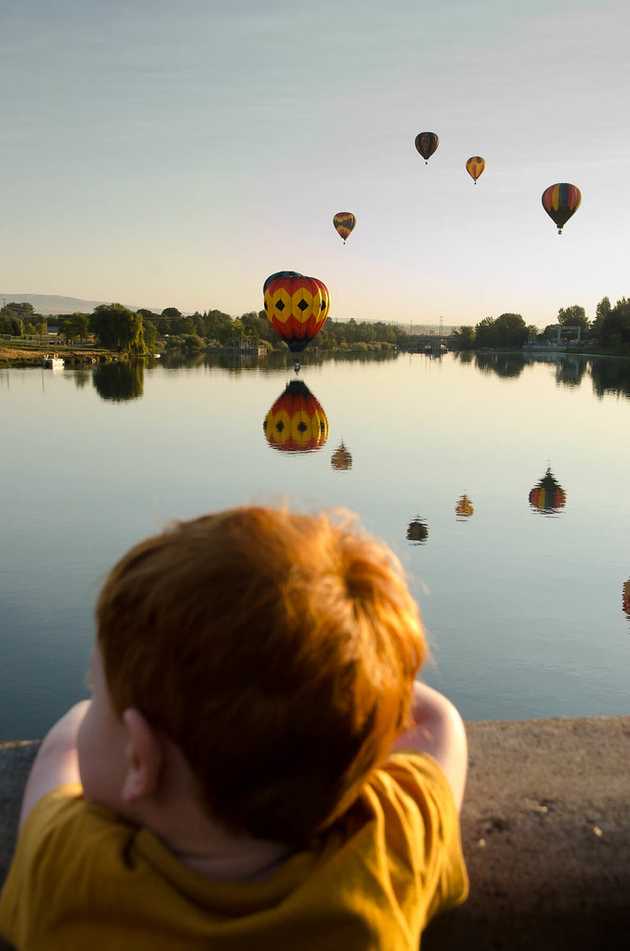 We drove to Prosser on Friday night. We expected our kids to fall asleep quickly in the car, but that didn't happen — probably our fault for letting them watch movies on the iPad. In spite of them getting a few hours' less sleep than normal, both kids were still up before my 6:00 AM alarm clock. That gave us plenty of time to get dressed, grab coffee from the corner Starbucks, and get out into the chilly desert morning air before the balloon launch.
Watching the balloons take off with my kids was very different from photographing them by myself. On the plus side, there's the clichéd joy of watching the event through their new eyes. Everything they saw was new and exciting.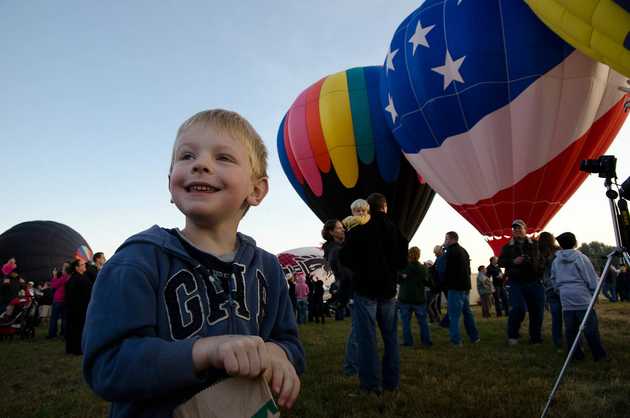 The downside is the attention span of youth. On my past two photography trips, I stayed out snapping pictures until the last balloon landed, about two hours after launch. On this trip, Alex was cold and back in our car within 45 minutes. The sky was still full of balloons.
This then presented the next challenge of traveling with kids. We were done balloon watching by 8:00… now what? A small town may have lots of "charm" and "wineries" to occupy adults. What about the Nickelodeon demographic?
It turns out that after a slow start, it was easier to occupy the kids than I thought. The annual Harvest Festival opened at 9:00, and with it came the magic of pony rides and inflatable slides. The playground at the town park is also top-notch. Those two activities kept us going until lunch time, when we let the kids eat at the McDonald's off the interstate with its indoor playground. By this point, Patrick was showing his lack of sleep, but Alex was going strong. We headed back to the Best Western and I went swimming with Alex while Molly tried to get Patrick to nap. One great thing about being five years old is a tiny indoor swimming pool is as much fun as the biggest water park. Alex and I stayed in the pool for almost three hours. Every now and then I'd ask him, "Do you think Patrick is sleeping now, or is he causing trouble?"
"Causing trouble!" he answered.
Alex was right. Molly brought Patrick down to the pool for the final hour. He hadn't slept at all in the two hours he was in the hotel room with her.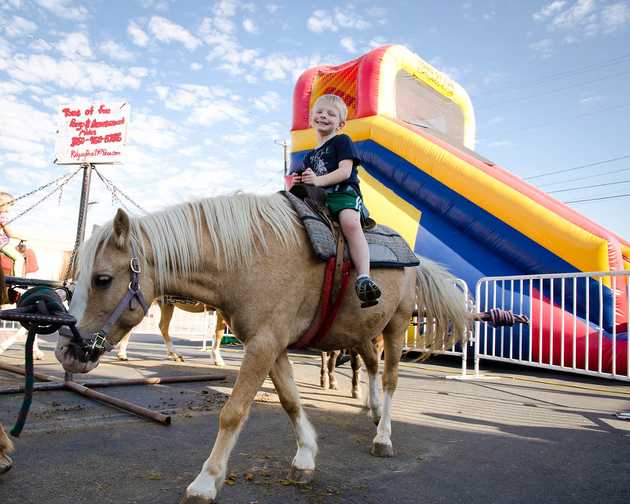 By the time dinner rolled around, exhaustion claimed the good spirits of both children, and it was taking its toll on the adults. It was too bad, because I wanted to take the kids to the Night Glow. Something to look forward to for next year, now that we understand the importance of forcing the kids to take naps!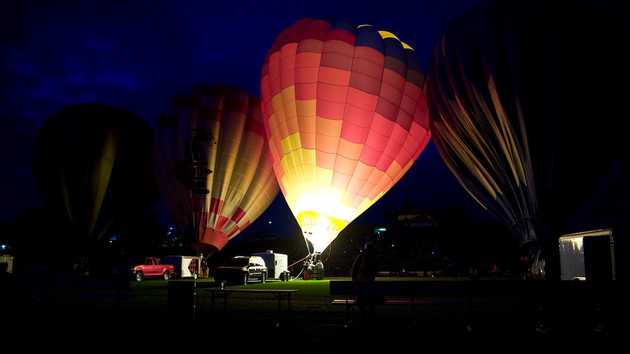 One little postscript on our adventure. I've heard it said that a photographer should always have a camera, and now I believe it. Picture the scene: Our kids are melting down and need food. We take them from our hotel to Johnny's Pizza Stone and Pub for a quick dinner. I leave my camera in the hotel. I'm not looking for photo opportunities… I'm just looking to survive the next 90 minutes until we can get everybody in bed.
When we get to the pizza restaurant, though, the strangest scene greeted us. The restaurant next door, El Rancho Allegre, was playing loud mariachi music, and in the parking lot were five cowboys on horseback. The cowboys were getting their horses to dance to the music. It turns out that horses dance just like Patrick: They move their feet up and down quickly, sort of bounce in place, and maybe turn around. Some of the horses had lovely braided manes and tails. The horse dancing went on for at least half an hour. During the dance, the restaurant had an MC talking on a loudspeaker to the audience… but everything he said was in Spanish, so I have no idea what was going on. It was an amazing, unexpected sight, and I wish I had a camera. You all will just have to take my word for it!