I've got the kids on my own for the next few days. Molly left for a conference yesterday afternoon and gets back Thursday. Yesterday afternoon started well. Patrick took a three-and-a-half hour nap, and even Alex fell asleep late in the afternoon. I had to wake him up at 4:00. While he was a grumpy groggy bear, I somehow managed to drag him into the car by 5:00 for our latest adventure: Our first trip to Lincoln Park in West Seattle.
Going to West Seattle always feels like a journey to another world. The drive has something of an Epic Quest feel. To get there from our sheltered enclave north of the Montlake Cut, you have to take I-5 under the skyscrapers of downtown Seattle, then take the West Seattle Bridge over the sprawling industrial sector, past the iconic red cranes, over the Superfund site that is the Duwamish River, and finally take Fauntleroy Way through a part of the city that's somehow _different _in a way I can't pin down.
We got to Lincoln Park around 5:30. It immediately made a good impression on all of us. While the park is over 130 acres, we had luckily parked just a short walk from a large, well-loved playground that was nestled under the park's huge pine trees. Near the playground were lots of picnic tables, a covered picnic shelter, and a few barbeque pits. There was a large group picnic underway when we got to the park, and the smell of the pine trees, the new fire in the barbeque pit, and the cool air blowing off Puget Sound made it seem like we were off on a camping trip.
Alex and Patrick had a great time at the playground. Patrick's favorite thing was to climb erratically up some scary-steep and narrow metal stairs and then slide headfirst down a small but steep slide. I wish I could have captured some video of him sliding, but I had to dart back and forth from the stairs (to keep him from falling backwards) to the base of the slide (to keep him from entering low earth orbit from the speed he picked up on that thing).
Somehow, I managed to persuade Alex to leave the playground after 30 minutes so we could take a walk through the park. (Patrick doesn't need persuading. Since I can strap him in the stroller, he doesn't get a vote.) Of course, with Alex, "walk" is more like "run full speed 50 feet, then stand still, then run 50 feet, then stand still…" And "through the park" was really more like 100 yards along the Bluff Trail. But we still got to enjoy a little bit of the setting sun through the trees and the view of Puget Sound far below.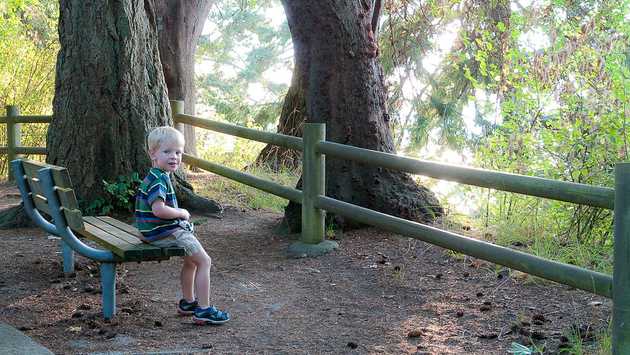 Because we got such a late start, we only spent an hour at the park. We've got to get back someday. We didn't get to the beach, or to Coleman Pool (a heated salt-water pool right on the Sound). From what we've seen, it's well worth the journey.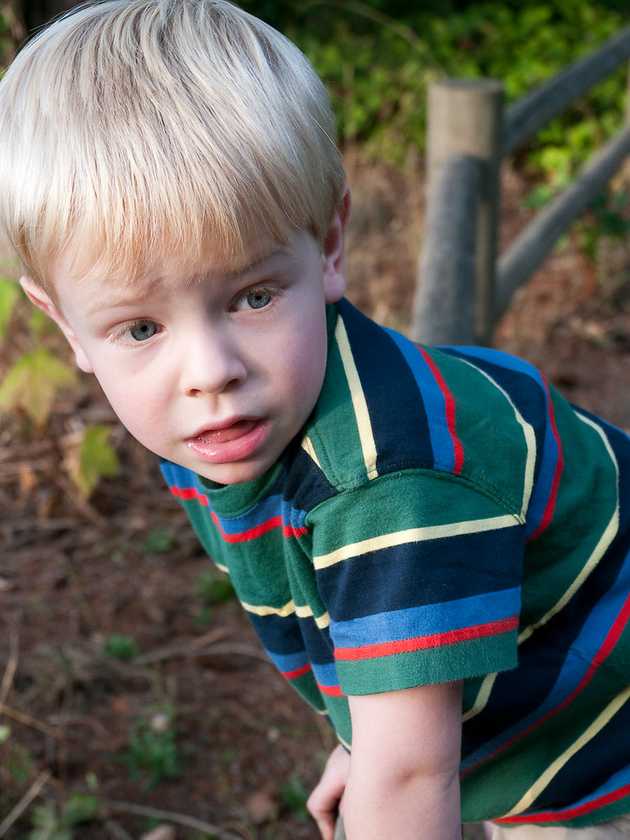 > > _Alex climbs the fence separating him from Puget Sound, far below._ > >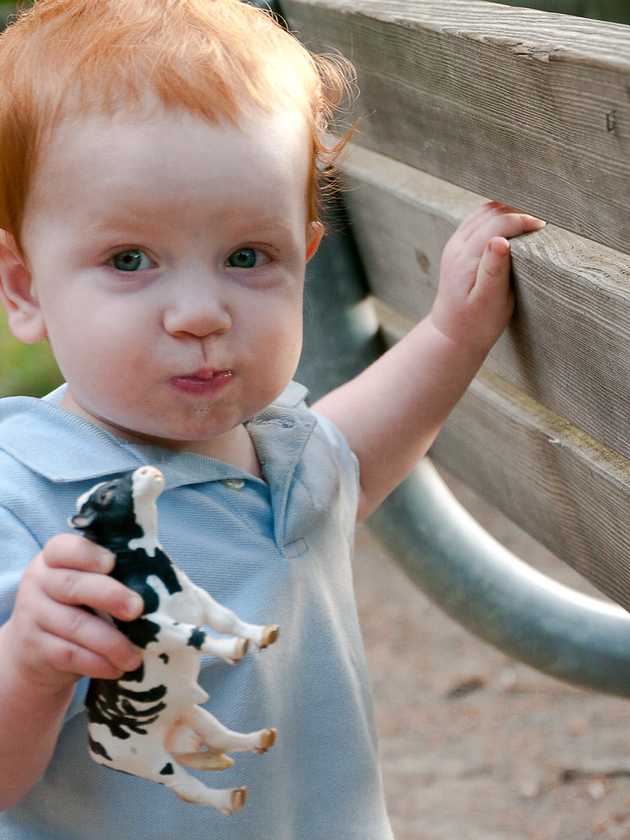 > > _Patrick is happy because he's successfully snagged his brother's cow._ > >
> > _No point watching this movie unless you're related to one if the kids._ > >