Two weekends ago, Molly went to a college friend's wedding, so my mom and my brother flew in as reinforcements to help take care of Alex and Patrick. I'd foolishly thought I'd be able to watch both kids on my own for the weekend. I'm glad Molly talked me out of that plan! My mom and my brother helped me keep my sanity, and it was also a great excuse to go out and see some of the city sights that are too easy to overlook.
One of our adventures was to the Theo Chocolate factory in Fremont for the factory tour. Theo Chocolate is the only 100% organic & fair trade chocolate maker in the United States. It's a pretty small operation, well-known in the area for their non-traditional chocolate bar flavors (like Chai and Coconut Curry).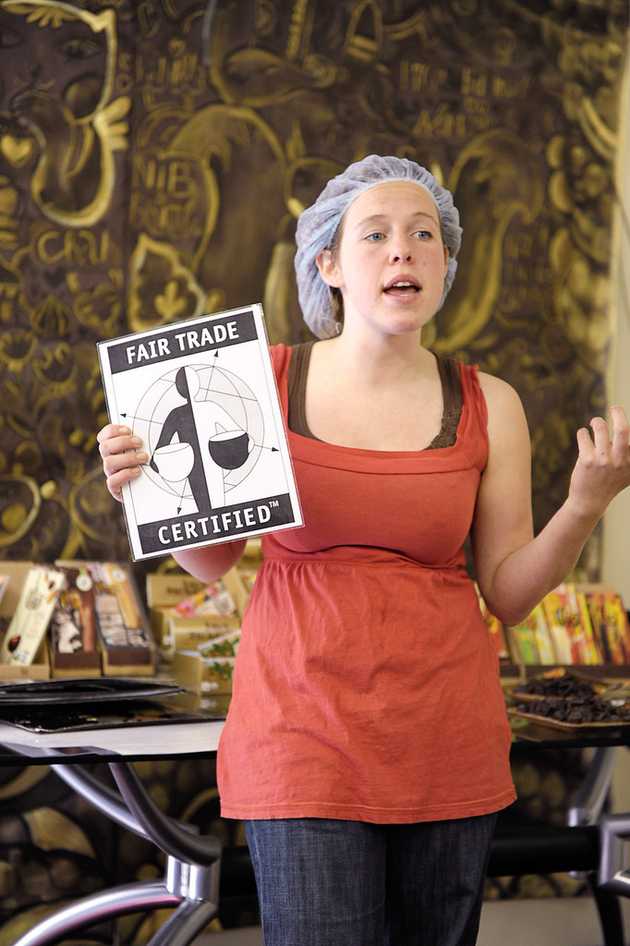 The original plan was to take the tour on Saturday, but it turns out the website isn't joking about calling ahead for reservations: When I called on Friday, the first available tour was Monday. All eight tours on the weekend were booked.
We took the last tour of the day on Monday. We brought Alex with us but left Patrick at daycare. This was not one of my better parenting decisions, and I think it really shows my stubborn streak. I really wanted to bring Alex on an "adventure" with us, thought this would be fun, and I persisted in the plan even though I knew that we'd have to pay the full $6 for Alex to go on the tour, the tour was 90 minutes long, and you needed closed-toe shoes and no strollers. The nice folks at Theo dropped every subtle hint they could that this is not a great idea for a three-year-old! But I persisted.
What really makes this a bad idea for a three-year-old is the same thing that makes the tour a great idea for an adult, and makes the tour well worth the $6. This is a Chocolate Factory, and they pass out lots and lots of samples of chocolate. It seems like every three minutes of the 90 minute tour, there was some new kind of chocolate to nibble on. Hazelnut crunch. Orange chocolate. 91% cacao single-origin Venezuela chocolate. Chocolate nibs. Curry chocolate. As the afternoon progressed, you could see Alex get more and more hyper. Luckily, a good portion of the "tour" is spent sitting in a room that has a door opening directly outside. When the squirming got out of control, I took Alex outside and let him run around. Alex had a great time, and we had a great time, and I don't think Alex spoiled the tour for anyone else (if anything, I think he may have added to their enjoyment). By those measures, the tour was a success. But I still wouldn't do it again with a kid that young.
And did I mention that the two times in his life that Alex has had any significant amount of dark chocolate to eat, he has not been able to fall asleep until 10:30 P.M.? Yup, as I said, not one of my best parenting decisions.
On the plus side, we did get to all wear fashionable hair nets, even Alex.